Hay Bale Twine for Dependable Transport & Storage
Our natural bale twine, sisal baler twine, and plastic hay bale twine provide the dependability, strength, and consistency you require in every spool. At Blue Lake Plastics, we distribute top-quality baling twine from brands with the most modern manufacturing equipment on the market. We are proud to say that our twine is second to none in quality. As a supplier, we carry all sizes and have a variety of colors available.
---
Plastic Baler Twine
Feature Advantages
Only virgin plastic resin is used in the manufacturing process of plastic hay bale twine
Specifically treated UV inhibitor for protection against light degradation
State of the art manufacturing equipment
Higher knot strengths
Options
110 x 20,000 SB 80/pallet
110 x 20,000 Solar 80/pallet
130 x 20,000 DB 80/pallet
130 x 9,000 SB 48/pallet
170 x 9,600 DB 60/pallet
210 x 6,500 SB 48/pallet
240 x 6,500 SB 48/pallet
245 x 8,500 SB 48/pallet
350 x 4,000 SB 48/pallet
440 x 4,000 SB 48/pallet
550 x 4,000 SB 48/pallet
650 x 3,800 HD SB 48/pallet
700 x 3,500 HD SB 48/pallet
---
Sisal Baler Twine
Feature Advantages
Sisal baling twine is a top choice for baler twine that's both strong and versatile. The natural plant fiber used in the production of sisal baler twine makes it ideal for ensuring knotless twines for both square and round bales, as well as being incredibly strong and durable. A treated option is designed to be rot and mildew resistant.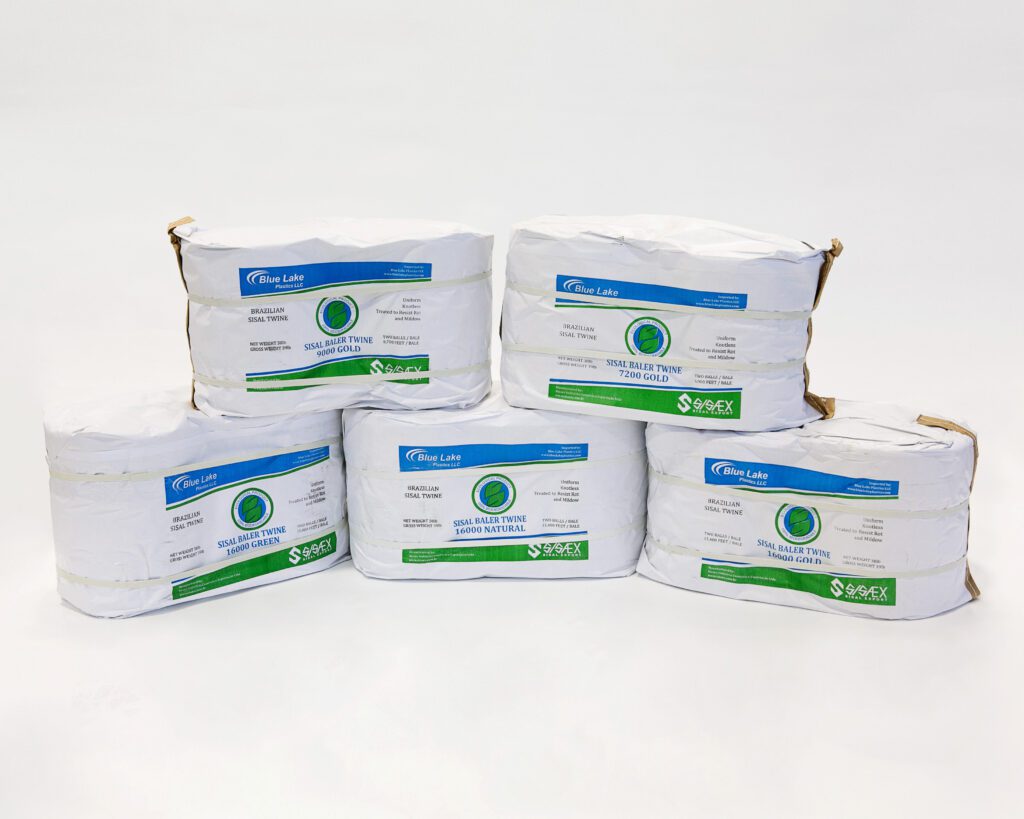 Options
9,000 Sisal Treated
7,200 Sisal Treated
10,000 Sisal Treated
16,000 Treated/Untreated
20,000 Binder Treated/Untreated
26,000 Binder Treated/Untreated
---
Solar Degradable Hay Bale Twine
Solar degradable baler twine is a multi-purpose bale twine that begins to degrade when exposed to sunshine. Perfect for various applications, this biodegradable baler twine will hold hay together as intended for months, while offering an environmentally friendly option.
Feature Advantages
20000/110 Solar Degradable
This natural bale twine will begin to degrade once exposed to the sun
Retains approximately 50 to 60% of its strength for 3 to 6 months
Rate of degradation depends on sunlight amount and intensity
---
"I bought my large square hay bale twine from Blue Lake Plastics because it was my local business option in Minnesota. The twine has worked awesome and service is truly second to none."

— Hastings, MN
Contact us for pricing & shipping options today!
Submit an online form or call us at (320) 333-9255 to get started.